« Gallup: Bush up 50%-47% Among Likely Voters
|
Main
|
Liberals "Question the Timing" of Bombing of Two Russian Airplanes »
August 26, 2004
Special Ace of Spades HQ Guest Editorial
For some time, I've been casting about looking for guest contributors who could help shoulder the blogging load. Recently I received the following essay in an email, and I think the writer's words are important for all of us.
If You Touch My Hoagie One More Time, I Will Fucking Kill You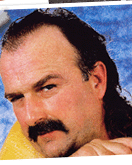 by Rich "Psycho" Giamboni
Special Guest Columnist for Ace of Spades HQ
If you touch my hoagie one more time, I will fucking kill you. I don't mean that metaphorically. I mean I will fucking reach across this table and literally, physically kill you.
You had your fun. You thought you were cute. You thought it was clown-time, and you were driving the little car. You touched the top of my turkey and provolone hoagie, and now I've had to rip off the piece of bread that you fucking contaminated.
Well I've got news for you, Chuckles. Clown-time is over. Now it's Psycho-Time. And if you touch my goddamned hoagie one more time, I'm going to fuck you up so bad you'll end up looking like Kuato from Total Recall.
Don't believe me? Think I'm joshing with you? Look at my face: I am not joshing with you, pal. I am deadly serious, and if you so much as fucking lay another finger on this sandwich you'll enter a world of hurt of beyond your very capability to conceive. No fuckin' foolin', you touch this hoagie one more time and I will spill life's blood all over this fucking Quizno's.
You finished your fucking cobb salad and now you're still hungry. Well, Poindexter, who the fuck told you to order that fucking cobb salad? I sure as shit didn't. You looked up at all the delicious, filling sandwiches you could have had and instead you went all queerbait on me. That was a mistake, amigo. That was a very bad mistake.
But I implore you-- if you value your very life, don't compound your error by touching my hoagie again. I shit you not, that will be the very last mistake you ever make.
Okay, okay. Now you're getting "funny" again. Now you're holding your hand a couple of inches away from my hoagie. Well aren't you cute? You're like a sixteen-year-old girl who just got her tits looking all sweet and ripe in her party dress. You're a doll, Susan. You're an absolute plum.
But if your fucking hand actually crosses the sandwich Rubicon, I am going to go apeshit up and down your spine. I am going to punch your fucking kidneys until you piss blood out of your fucking eyeballs.
Think I'm being farcical? Think I'm just "pulling your leg"? Right now I'm a 747 filled with only flying elbows and head-butts and I'm running an ad that says "Fly Me." You want to fly me? I offer Frequent Flyer Miles for fuckers who touch my sandwich. I'll take you to hell and back-- no extra charge.
You want to know how serious I am? You know that part in Dirty Harry when he says, "Go ahead, make my day?" Well imagine Clint Eastwood with a fucking turkey and provolone hoagie he's been looking forward to since 10:30 AM.
That's how fucking shit-serious I am, baby. You touch my hoagie again, I'm going to Dead Pool your grinning fucking face until I turn your brain into a slushing mess resembling gray applesauce.
I've got a little switch in my head. I call it my "Psycho Switch." And you're about to flip it. You flip that Psycho Switch, and I go into Full Retard Berserker Mode. I'll come at you with 100% retard-strength. I'll be all over you like a whirlwind of spazz-slaps and drool.
We don't have to go down this road, Chester. If you want a sandwich, they'll make you another one. Don't let your urge to nosh lead you into the grave. But if you want to play, we can play. I consider myself a bit of a "gamer."
So go ahead. Roll the dice. Let's see how all this plays out. But I warn you: This isn't Yahtzee. You won't be collecting pairs of fives. You'll be collecting your fucking teeth out of the Condiments Bar.
You're pulling your hand away now. Congratulations -- you chose wisely, my friend.
And now you're looking up at the menu-display over the cashier's heads. You're smartening up by the minute, Chief. Buy yourself a nice toasted ham and swiss sandwich. Ain't no lie, a nice toasted ham and swiss sandwich beats a trip to the morgue every day of the week, hands down. And that's the name of that tune.
Oh, and-- while you're up? Do me a solid and and grab me a pack of barbeque-flavor Ruffles. I forgot to get them. Thanks.
Rich "Psycho" Giamboni is an award-winning columnist for Hearst Newspapers. His most recent book is Take Back What You Said About Kevin McHale Or I Will Take a Shit in Your Jeep. His column appears here while Helen Thomas is vacationing.
Yeah, Yeah, Yeah: This set-up is Onion-esque. So friggin' what? Psycho Giamboni can write what he wants.


posted by Ace at
06:09 PM
|
Access Comments