August 28, 2016
Sunday Morning Book Thread 08-28-2016: Stepping On Your Own [OregonMuse]
—Open Blogger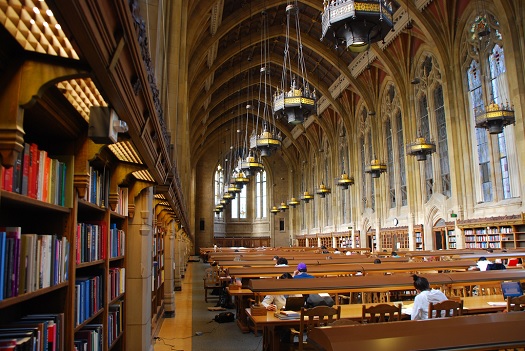 University of Washington's Suzzallo Library Graduate Reading Room

(Look at that pic. Go on, click on it. It doesn't seem likely to me that that building started out as a library, much less a "graduate reading room". I wonder if UW acquired a church building and re-purposed it. That makes me sad. But, library. So that's not so bad. On the other hand, it could've been worse. It could've been re-purposed as a mosque.)

Good morning to all of you morons and moronettes and bartenders everywhere and all the ships at sea. Welcome to AoSHQ's stately, prestigious, internationally acclaimed and high-class Sunday Morning Book Thread, where men are men, all the 'ettes are gorgeous, safe spaces are underneath your house and are used as protection against actual dangers, like tornados, and snowflakes soon dissolve. And unlike other AoSHQ comment threads, the Sunday Morning Book Thread is so hoity-toity, pants are required. Even if it's these.
"Children are made readers on the laps of their parents,"
--Emilie Buchwald.

Hugos and Puppies and CHORFs, Oh My!
So this year's Hugo Awards have come and gone, and apparently it was kind of an "Empire Strikes Back" event. All the SJWs are in the throes of ecstasy because few, if any, of the Sad Puppies candidates won. Also, the 'Best Novel' category was won by The Fifth Season, written by N.K. Jemison, who is, from what I hear, the SJW's SJW.
Yay, diversity! Boo, evil white men!
So all the progressives are jumping with joy and spraying each other with champagne over their great victory over the Sad Puppies, but they don't understand they've already lost, and in fact, they lost several years ago.
Larry Correia did not start the Sad Puppies merely to provide an alternate slate of choices for white guys. His purpose, as he has explained over and over and over again, was to prove a point. He had publicly stated that (a) science-fiction publishing has for years been dominated by a small, inbred SJW clique that act as gatekeepers that keep out conservative-leaning authors and (b) this same inbred clique runs the Hugo awards. And then all the SJWs went bananas trying to keep the SP choices off the ballot, and then when they couldn't do that, they told all of their friends not to vote for them, or to "No Award" the entire category. Apparently, they didn't realize that these concerted efforts only served to prove Correia's point that the Hugos were run by and for an small, inbred clique of progressive CHORFs*
And now that Correia's supposition has been amply demonstrated, anything else is just icing on the cake. The existence of the "Rabid Puppies" slate confuses things a bit, but Correia's original point still stands. In fact, Correia was not part of the Sad Puppies this year, and I rather think his direct involvement with it is pretty much a thing of the past. This year was another opportunity for the inbred SJWs to beclown themselves yet again. Which they did superbly, with all their hollering about "white male privilege". They failed to pay attention to the fact that this year the Sad Puppies were managed by women authors: Kate Paulk, Sarah Hoyt, and Amanda Green.
You couldn't do better than read Correia's take on the 2016 Hugos:
Funny. When I started Sad Puppies four years ago, the narrative was all about how the Hugos were a celebration of what was great, representing the best of all of fandom. I said nope, it is decided by cliques, ass kissing, and politics. They called me a liar. Fast forward to now, and at least they are open it is all politics. Hell, they're celebrating it.
Correia has the inbred SJW clique so spooked, they're kicking their own butts.

--------------------------
*Cliquish, Holier-than-thou, Obnoxious, Reactionary, Fanatics.
Continue reading