Overnight Open Thread (8-28-2014) - Strategy-less Edition
—Maetenloch
Stuff Jefferson Actually Said, Vol. VII
"...I advise the gun. While this gives a moderate exercise to the body, it gives boldness, enterprize, and independance to the mind. Games played with the ball and others of that nature, are too violent for the body and stamp no character on the mind. Let your gun therefore be the constant companion of your walks."

-- Thomas Jefferson on what form of exercise he thought was best
Apparently not - once you adjust for other factors. Granted it's a study from Sweden but then if poverty does really cause crime, then given Sweden's homogenous population and culture and relatively low crime rate you would expect the link to be more clear-cut and obvious there than anywhere else. But it wasn't.
In Sweden the age of criminal responsibility is 15, so Mr Sariaslan tracked his subjects from the dates of their 15th birthdays onwards, for an average of three-and-a-half years. He found, to no one's surprise, that teenagers who had grown up in families whose earnings were among the bottom fifth were seven times more likely to be convicted of violent crimes, and twice as likely to be convicted of drug offences, as those whose family incomes were in the top fifth.

What did surprise him was that when he looked at families which had started poor and got richer, the younger children-those born into relative affluence-were just as likely to misbehave when they were teenagers as their elder siblings had been. Family income was not, per se, the determining factor.

That suggests two, not mutually exclusive, possibilities. One is that a family's culture, once established, is "sticky"-that you can, to put it crudely, take the kid out of the neighbourhood, but not the neighbourhood out of the kid. Given, for example, children's propensity to emulate elder siblings whom they admire, that sounds perfectly plausible. The other possibility is that genes which predispose to criminal behaviour (several studies suggest such genes exist) are more common at the bottom of society than at the top, perhaps because the lack of impulse-control they engender also tends to reduce someone's earning capacity.

...There were no associations between childhood family income and subsequent violent criminality and substance misuse once we had adjusted for unobserved familial risk factors.
And you'll be shocked, shocked to learn that the man suspected of beheading James Foley was not driven to it by poverty nor by oppression. He got his money - and taste for killing - the old fashioned way - he inherited it.
British rapper Abdel-Majed Abdel Bary, AKA "L Jinny," is the prime suspect in the murder of Foley, according to sources in MI15. Bary's father, Adel Abdul Bary, the terrorist charged with participating in the bombings of embassies in Tanzania and Kenya in August 1998, is awaiting trial in New York after an 8 month extradition battle with the US.

...The "root causes" of [Abdel-Majed Abdel] Bary's radicalism aren't poverty and hopelessness. He grew up in a $3 million home in London, and had the best of everything growing up. His rap career never amounted to much but those who know him say he became radicalized when he began attending one of the many radical mosques in Britain. He is disciple of extremist preacher Anjem Choudary, who has expressed a desire to go to Syria and join Islamic State.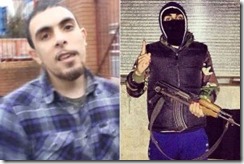 Continue reading