Overnight Open Thread (10-20-2014)
—Maetenloch
2001 Holiday Inn Commercial Accurately Predicted Our Current Ebola Czar*
* Note that there's no evidence that Rob Klain ever stayed at a Holiday Inn Express. He did work for Al Gore once though.
Related: CBS Employee Snarkily Wonders When Rand Paul Became 'Doctor' Rand Paul, Deletes Tweet When Someone Puts Some Knowledge to Her
Is a 21 Day Ebola Quarantine Long Enough?
Maybe not. Still any period of quarantine is better than none but 21 days shouldn't be taken as gospel either.
A study published in the New England Journal of Medicine earlier this year also found that 5 per cent of patients who contracted Ebola in West Africa in the first months of the epidemic had an incubation period longer than the recommended 21 days.

The CDC's website puts the incubation period of the virus at 2-21 days.
Ben Affleck, Bill Maher, and Brad Pitt All Own Guns to Protect Their Homes and Families
Maher then used Affleck's comments as a springboard to launch into a short discussion on self-defense and the rights a private citizen has to defend himself and his property. He said: "In California, anyway, you can shoot an intruder in your home."

Maher then looked at Affleck and said, "I mean, you have guns." To which Affleck responded, "I do." The audience grew quiet for a second and then roused up when Maher said, "So do I, and for that exact reason."

Maher added: "I'm not disarming unilaterally."
According Fox News, Pitt told Radio Times "there's a rite of passage where [he] grew up of inheriting your ancestors' weapons." Subsequently, his brother inherited their father's weapons, while Pitt says of himself, "I got my grandfather's shotgun when I was in kindergarten," which was age six.

He said his father "instilled [in him] a profound and deep respect for the weapon."

Two years later, at age eight, Pitt fired his first handgun. He said he does not "feel that his family is safe unless there is a gun in the home."

In September 2012, Outdoor Life reported that Pitt gave Angelina Jolie a "$400,000 shooting range as wedding gift."
And I'm guessing that only one of these three would unreservedly support your right to have a gun for self-defense.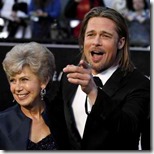 Continue reading