Sunday Morning Book Thread 08-31-2014: Shake, Rattle, and Roll [OregonMuse]
—Open Blogger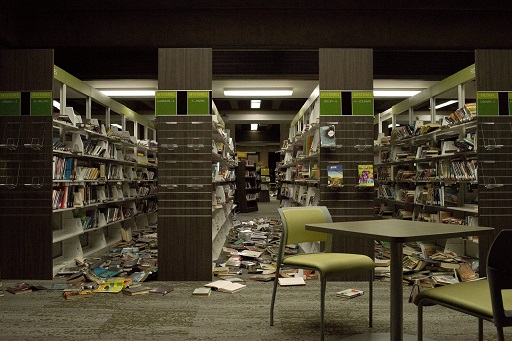 Napa County Library After Earthquake

Good morning morons and moronettes and welcome to AoSHQ's stately, prestigious, and high-class Sunday Morning Book Thread. The only AoSHQ thread that is so hoity-toity, pants are required.

Ah, Thread of Book
Peacefully great
With mood subdued
With pace sedate
Participate
Or lurkly look
Leisure learning
Thread of Book
Thanks to moron "mindful webworker" for posting this fun poem in last week's comments.
Another thing I like about the book thread is that I can come back to it after 8 or 12 hours and there may be new comments posted. On last week's thread, for instance, the comments extended into the evening, even to the next day. It takes a long time for the book thread to die.

Quake Damage
Last Sunday's earthquake in Northern California really did a number on the libraries in Napa, my old stomping ground:
"There is lots of work to be done -- lots of shelving to do! We are closed, but we hope to get back with you as soon as possible with the doors open," says director of Napa County Library Services Danis Kreimeier in a video posted on the system's Facebook page. "Be safe, take care of yourself, and we'll see you real soon."
All Napa County libraries were closed Monday for cleanup.

More On Superman
Last week, I mentioned that a pristine copy of Action Comics #1 was put up for auction on eBay. Guess how much it sold for:
An original Superman comic, sold for 10 cents at a West Virginia newsstand in 1938, was purchased at auction Sunday night for $3.2 million, making it the most expensive comic book ever sold.
I wondered how it survived for so long in such good shape:
Purchased off a newsstand by a man from West Virginia in 1938, the comic book was stored in a cedar chest "at high altitude" for four decades. When the man died, a collector purchased it from his estate.
The 3.2 million auction price far exceeding earlier purchases:
The previous record for a comic book was $2.1 million, for another Action Comics No. 1, sold by the actor Nicolas Cage in 2011.
Continue reading