Overnight Open Thread (3-9-2014)
—Maetenloch
Reading This Salon Article on White Belly Dancers Will Make You Measurably Dumber. Also, Possibly Racist.
Because Salon writer, Randa Jarrar, thinks it's horrible and racist that non-Arab women dare to belly dance as she declares in this article:
Whether they know it or not, white women who practice belly dance are engaging in appropriation.

...Women I have confronted about this have said, "But I have been dancing for 15 years! This is something I have built a huge community on." These women are more interested in their investment in belly dancing than in questioning and examining how their appropriation of the art causes others harm. To them, I can only say, I'm sure there are people who have been unwittingly racist for 15 years. It's not too late. Find another form of self-expression. Make sure you're not appropriating someone else's.
Apparently 'appropriation' is the latest crime-du-jour on the left which seems to be the act of engaging in an art form originally developed by someone who doesn't look like you. Which is to say your skin hue and ethnic background determine which artistic genres you are allowed to engage in. A more perfect definition of artistic racism would be hard to come up with. But then the Left is ever creative with defining their racism away and discovering new race crimes that you're guilty of.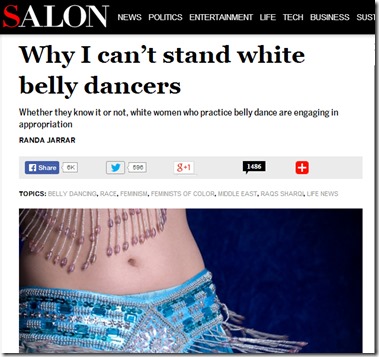 Which leads to this: HuffPo Writer: Republicans Can Never Not Be Racist
And this: Mexicans Almost as Racist as Republicans
Continue reading