May 28, 2017
Sunday Morning Book Thread 05-28-2017
—OregonMuse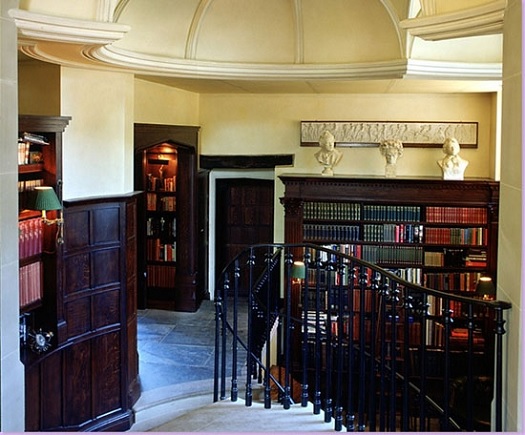 Sting's Personal Library, London
Good morning to all you 'rons, 'ettes, lurkers, and lurkettes. Welcome once again to the stately, prestigious, internationally acclaimed and high-class Sunday Morning Book Thread, where men are men, all the 'ettes are gorgeous, safe spaces are underneath your house and are used as protection against actual dangers, like natural disasters, or Literally Hitler, and special snowflakes do not last. And unlike other AoSHQ comment threads, the Sunday Morning Book Thread is so hoity-toity, pants are required. Even if it's these pants, and would you care to know that the guy in the yellow cap who's wearing those ugly pants is Justin Bieber? Yeah, me, neither.
"Buying books would be a good thing, if one could also buy the time to read them"
--Arthur Schopenhauer

The Universal Library
but according to this very lengthy Atlantic article, Google once planned a project to scan every book in the world:
Google's secret effort to scan every book in the world, codenamed "Project Ocean," began in earnest in 2002 when Larry Page and Marissa Mayer sat down in the office together with a 300-page book and a metronome. Page wanted to know how long it would take to scan more than a hundred-million books, so he started with one that was lying around. Using the metronome to keep a steady pace, he and Mayer paged through the book cover-to-cover. It took them 40 minutes.
OK, so the scanning process needed to be improved. And Page managed it, so Google was able to move forward with the project:
By 2004, Google had started scanning. In just over a decade, after making deals with Michigan, Harvard, Stanford, Oxford, the New York Public Library, and dozens of other library systems, the company, outpacing Page's prediction, had scanned about 25 million books. It cost them an estimated $400 million. It was a feat not just of technology but of logistics.
$400 million is serious coin. So what happened? Legal problems. A bunch of authors filed suit, claiming massive copyright violations:
Instead of asking for anyone's permission, Google had plundered libraries. This seemed obviously wrong: If you wanted to copy a book, you had to have the right to copy it—you had to have the damn copyright. Letting Google get away with the wholesale copying of every book in America struck them as setting a dangerous precedent, one that might well render their copyrights worthless. An advocacy group called the Authors Guild, and several book authors, filed a class action lawsuit against Google on behalf of everyone with a U.S. copyright interest in a book. (A group of publishers filed their own lawsuit but joined the Authors Guild class action shortly thereafter.)
I suppose it's hard to claim "fair use" when you're copying the entire book.
This piece has lots more about the Google case, and an interesting discussion about the history of the impact of technology on copyright protection - starting with the rolls of music used by player pianos.

It Pays To Increase Your Word Power®
A SLABBERMENT is a sloppy mess.
Usage:
The Republican Party is a SLABBERMENT.
Maxine Waters' hair is a SLABBERMENT.
Ace's knees after a martial arts bout are a SLABBERMENT.

Continue reading