May 27, 2015
Overnight Open Thread (5-27-2015)
—Maetenloch
Thanks to a sinus infection that's been grinding me down please accept this stripped-down even pithier ONT.
Oh and I agree about the superheroics to a certain extent but I think the real issue didn't start with Stan Lee as much as it did the people after him. Yeah, he only hired fellow political travelers but I doubt even he realized how far they would go. I doubt he thought they would quit writing to kids either and write comics solely to aging leftists and weird grad-school sex-scenester kids (LGBTABCEFG) to slowly diminishing returns propped up only by films and cartoons for children. In fact, if anything, that's the biggest knock on what superheroes have become. It's adults stealing the dreams of children to prop up their own sad fantasies. Sort of a good picture of the current Left in the world. Globalized and living off the young for the privilege of the few. Who'd a guessed there was so much in comics

-- Greg Nielsen in an email to Mark Steyn
There's a certain kind of behavior in the Arab world that, to me, resembles the way young men behave when there is no significant influence from women in their lives.

-- PJ O'Rourke
One of the scariest aspects of our times is how seldom either people or policies are judged by their track record.

-- Thomas Sowell
Let's All Congratulate Marie Harf on Her Recent Promotion
She's now senior advisor for strategic communications to Secretary of State John Kerry and will play a key role in developing communication strategies for our negotiations with Iran over how they'll keep their nuclear weapons program. It's nice to see that all her hard work, consistent stylishness, and peppy can-do attitude was finally recognized by the Pan-Hellenic Council State Department.

According to unnamed sources Harf is already bursting with ideas to make this year's negotiations the most AWESOMEST EVER! Now don't get too excited but rumors are that Lady Gaga(!) has already been booked and that Aerosmith(!!) may make an appearance during the karaoke cruise!!!
We're in the best of hands.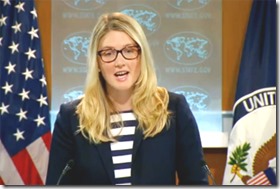 The Deep Thoughts of John Kerry
Investor's Business Daily: An Obama Crime Wave Spreads Across America
State-run Chinese Newspaper: US-China war 'inevitable' unless Washington drops demands over South China Sea
Times of London: Saudi Arabia Calling in Its Chits to Get Pakistani Nuclear Weapons
FDA Approves First Drug to Treat Radiation Sickness After a Nuclear Incident
So we have that going for us.
But hey here's some Kate Upton to cheer you right up!
Kate Upton's Car Got Towed so She Chugs a Bud Out of a Paper Bag, Makes Calls
Apparently as part of a movie scene. In real life models just grab the first non-serial killery-but-has-a-401K guy they see and ask to borrow his car for a while and continue on their merry way.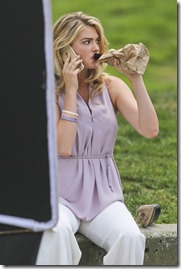 Continue reading