Sunday Morning Book Thread 01-22-2017
—OregonMuse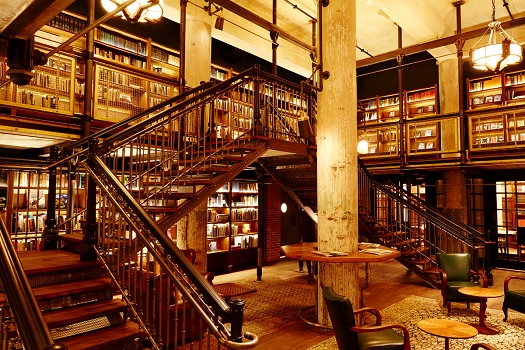 Hotel Emma Library, San Antonio, TX
(Note: please take all political discussions to the open thread below this one. Thank you)
Good morning to all you 'rons, 'ettes, lurkers, and lurkettes. Welcome once again to the stately, prestigious, internationally acclaimed and high-class Sunday Morning Book Thread, where men are men, all the 'ettes are hotties, safe spaces are underneath your house and are used as protection against actual dangers, like natural disasters, triggering Trump tweets, Russians hacking, and special snowflakes do not get respect, but instead, belly laughs. And unlike other AoSHQ comment threads, the Sunday Morning Book Thread is so hoity-toity, pants are required. Even if it's these pants, which give the noble sport of golf a bad name.
"You can never get a cup of tea large enough or a book long enough to suit me."
--C. S. Lewis

Pic Note
Last weekend, I discovered a beautiful library in the Hotel Emma in San Antonio. The hotel is built in the old Pearl Brewery and the two-story library and reading room is part of that structure. The library's almost 4000 books were donated by Sherry Kafka Wagner, a San Antonio author and book enthusiast/collector.

Posted by: LASue at January 08, 2017 11:22 AM (CLKfs)

Impulse Buy
I generally don't buy books right away. When I see a book I think I might like, I tend to over-think the purchase. I mull it over in my mind for awhile, weighing the pros and cons, reading the reviews (esp. the 1-star reviews), and then maybe, just maybe, I'll buy it. Even if it's a $1.99 Kindle deal. Yes, I am that cheap. I just hate spending money. Compared to me, Vic throws money away like a drunken sailor or a Democratic congressmen.
But then occasionally I will find a book that I'll look at, read a bit of the blurb, and then bam, buy it. One such book is A Stranger In My Own Hometown: A Brendan O'Brian Legal Thriller by J.W. Kerwin. This is how the Amazon blurb starts out:
The Council for Islamic Religious Respect (CIRR) has filed suit against a crusading newspaper reporter for defaming Islam and linking the group to terrorists.

CIRR has seemingly unlimited funds and a wily attorney who thinks nothing of lying to the judge. But the reporter has Brendan O'Brian, America's most politically incorrect defense attorney.
The blurb goes on, but at that point, my head had filled up with "I WANT!" like an inflated tire. So I stopped reading and plunked down my $2.99. I mean, who knows, it may turn out to be a crappy book, but for $3, it's a good risk.
Also, I had to laugh at the novel's bad guys, the "Council for Islamic Religious Respect (CIRR)". Gee, I wonder who that's supposed to be?
Continue reading