Sunday Morning Book Thread 05-22-2016: Rust Never Sleeps [OregonMuse]
—Open Blogger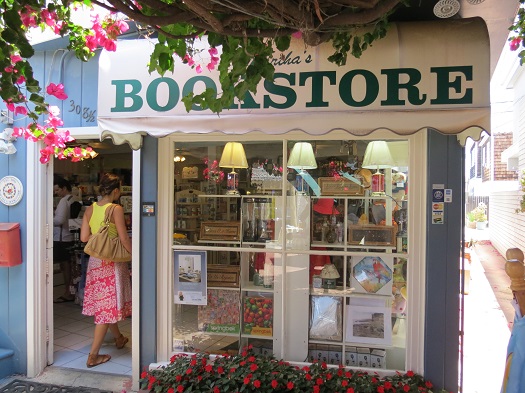 Another Defunct Bookstore

This charming little place was Martha's Bookstore on Balboa Island, Newport Beach, CA, which is now closed. That's the bad news. The good news is that it is now the site of Island Tales Bookshop, a bookstore specializing in children's books.
Good morning to all of you morons and moronettes and bartenders everywhere and all the ships at sea. Welcome to AoSHQ's stately, prestigious, internationally acclaimed and high-class Sunday Morning Book Thread, where men are men, all the 'ettes are lovely, space isn't safe, and snowflakes will melt. The Sunday Morning Book Thread is the only AoSHQ thread that is so hoity-toity, pants are required. And if you self-identify as a carrot, it doesn't matter what the Obama DoJ says, you still can't go sneaking into the other bin and molest the celery.

It Never Stops
This one has been sitting in my "to do" list fo a couple of weeks, now. About time I got to it:
278 The left churned out another Hiss is innocent book called American Dreyfuss. The premise was that Hiss set him up. LOL

The author was 20 y/o, living with her 52 y/o fiance who also "dated" her mom, when Alger Hiss showed up for dinner. This was 1960 after he got out of the joint. I cant believe she wrote this crap. Joan Brady is her name. Im amazed she found a publisher. No doubt she will be invited to speak and appear at functions and maybe money can be made that way but who but a small group of people thing Alger is still innocent?

Posted by: Bruce With a Wang! at May 11, 2016 10:00 AM (iQIUe)
I think BWaW! perhaps meant that Nixon set him up. Because I couldn't find any book called "American Dreyfuss" on Amazon, but I did find Alger Hiss: Framed: A New Look at the Case That Made Nixon Famous by Joan Brady, so this is most likely the one BWaW! is referring to. The release date is January 2017, and there's no "Look Inside" link, so I don't have anything to go by other than the Amazon blurb.
Get a load of this:
In this riveting investigation, Joan Brady—winner of The Whitbread Book of the Year—reveals how Nixon manipulated a media and public in the thrall of post-war anti-communist hysteria to make a fabricated case against Hiss...Brady has pored over newly available KGB files and makes a powerful argument that previously presented KGB documents bearing Hiss's signature were forgeries. With this new revelation, the corruption of President Nixon and his legacy comes into greater relief. Alger Hiss is necessary and timely, telling soberly the tale of a nation in the grip of paranoid fear and the man who took most advantage of this fear.
Oh my. This is such a target-rich environment, I scarcely know where to begin. I guess I can start out by observing that progressive scholarship really isn't scholarship in the traditional sense of the word, by which I mean the production and subsequent increase of human knowledge and, indirectly, the distribution of its benefits. Instead, progressive scholarship is simply progressives fleshing out and expanding upon the various bullshit narratives they've invented. Now, one very strong, and at this point, venerable, bullshit narrative is the "evil Richard Nixon" theme wherein Nixon is basically a stand-in for Satan. Even atheists have to have a devil, and Nixon is theirs. Now, you young-uns wouldn't believe the depths of the spittle-flecked madness that Nixon drove the left into back in the day. You've all seen Palin Derangement Syndrome, Bush Derangement Syndrome, and some of you older morons remember Reagan Derangement Syndrome, but I'm telling you that these were mere candles in the wind compared to the roaring conflagration that was Nixon Derangement Syndrome. Every evil or misfortune that occurred in the world was attributed to something Dick Nixon did, or didn't do, or said, or didn't say. It was absolutely insane. Yet it became just another tool in the progressive toolbox. Another day, another Nixon perfidy.
Another bullshit narrative is the much-used "anti-communism is delusional" dead horse that progressives have been flogging for decades. The problem is, they don't usually attempt to set forth a positive case for progressive beliefs, i.e. write hagiographies of Mao ZeDong and the glories of his Five-Year Plans, but rather, it's all attack, attack, attack, and kill the messenger: when an actual scholar does actual work, such as Chinese author Jung Chang did with her biography Mao: The Unknown Story, which was not favorable towards him, then suddenly a bunch of Maoist nincompoops will come crawling up out of the drains like sewer rats, squealing and twitching their whiskers in righteous fury at the woman who dared cast aspersions on their god. Some of the 1-star reviews of Chang's book bear this out.
The novelty of Brady's new book on Hiss is that it looks like it takes the "evil Richard Nixon" bullshit narrative and combines it with the "anti-communism is delusional" bullshit narrative, mixes them together and the resulting brew is even more intoxicating, like whiskey to a thirsty Irishman. I predict that when this book is released, the reviews from left-wing media such as the Guardian, Salon, and the HuffPo will be snake-handling levels of ecstatic. The right has pretty much fought the left to a standstill on the Hiss case for a number of years now, since the publication of Perjury: The Hiss-Chambers Case, written by left-wing author Allen Weinstein, who investigated the Hiss case with the intent of finding the reasons why Hiss was innocent, reasons he knew had to be there, but instead discovering that he was guilty as charged. With that, conservatives have pretty much moved on, but the left never does, never moves on, never sleeps, and is corrosive as rust. Brady's new book will be potent balm to salve their wounded souls. With the combining of the two bullshit narratives, I can hear the Guardian reviewer cry out with joy, "Hallelujah! Finally, after all these years, it now all makes sense."
Nixon did it! Yeah!
And with that, their ignorance will be nigh impregnable.
Continue reading