Food Thread: The Great Garnish War: Summer Campaign
—CBD
Looks great, doesn't it? I love big thick sloppy burgers, as long as the bun doesn't dominate. The more the merrier! Fried egg? Hell Yes! Bacon and avocado and cheese and some gloppy sauce and lettuce (not too much) and even a thin slice of tomato. All of that, piled onto a nice juicy patty makes my heart sing.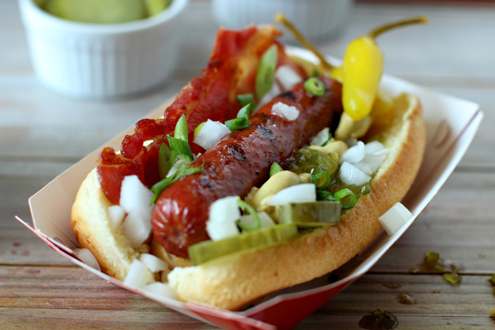 Nope Nope Nope. Too much stuff. The proper clothing for a hot dog is a bun (not too big), some mustard, a bit of chopped onion, and maybe, just maybe, if I am feeling particularly peckish, a thin scattering of sauerkraut. No disgusting pile of sauerkraut that soaks the bun and overwhelms the flavor of the dog. And don't even think about that neon-green relish that is made in a factory in China using slave labor and coal tailings.
And if the hot dog is a really fine specimen, then just the bun and some good mustard. And I am not talking about fancy sausages, I am referring to that glorious creation of American Exceptionalism: the plain skinless frank. Good ones can be found, and they are worth the search. My local place I have raved about (The Swiss Pork Store) has spectacular hot dogs that I can cheerfully eat until I am sick.
Oh...a good corn dog is allowed.
Continue reading